Tough day on the park for Lions
Mulwala: 0.2, 0.4, 1.6, 4.6.30.
Tongala: 3.4, 4.8, 7.9, 13.11.89.
Goals: Mulwala: J. Sutherland 2, J. Smith 1, J. Dalgliesh 1.
Tongala: R. Nyhuis 3, A. Dennis 3, M. Cowley 2, J. Hammond 1, J. Souter 1, C. Smith 1, S. Cipriani 1, M. Ryan 1.
Best: Mulwala: A. Rouel, M. Gorman, D. McNamara, W. Thomson, J. Smith.
Tongala: C. Ilett, C. Mccarthy, K. Fitzgerald, R. Nyhuis, M. Pryde, N. Jamieson.
After a poor loss last week versus Cobram, the senior coach asked for a lot more from his players and in the early stages of the first quarter Mulwala were delivering.
Jamie Smith and Matt Gorman were working well out of the middle of the ground moving the ball deep into a forward line stacked with the two Robinson boys and Jack Sutherland.
A couple of missed shots on goal and some sharp ball movement from Tongala saw them take the lead into quarter time.
Wally Thomson got the job of curtailing the Tongala midfielders and performed admirably as the game tightened up in the second quarter, but Mulwala were still unable to capitalize on their opportunities.
If not for some great defensive work by Lachlan Rouel, Dylan McNamara and James Wilson, Mulwala would have been a lot further behind at half-time.
The second half continued much the same way as the first half with Mulwala struggling to get on top around the ground.
Adam Rouell and Jake Dalgleish were trying hard, but Tongala seemed to have all the answers.
The bye round this week will be helpful before another tough assignment away to Moama in 2 weeks' time.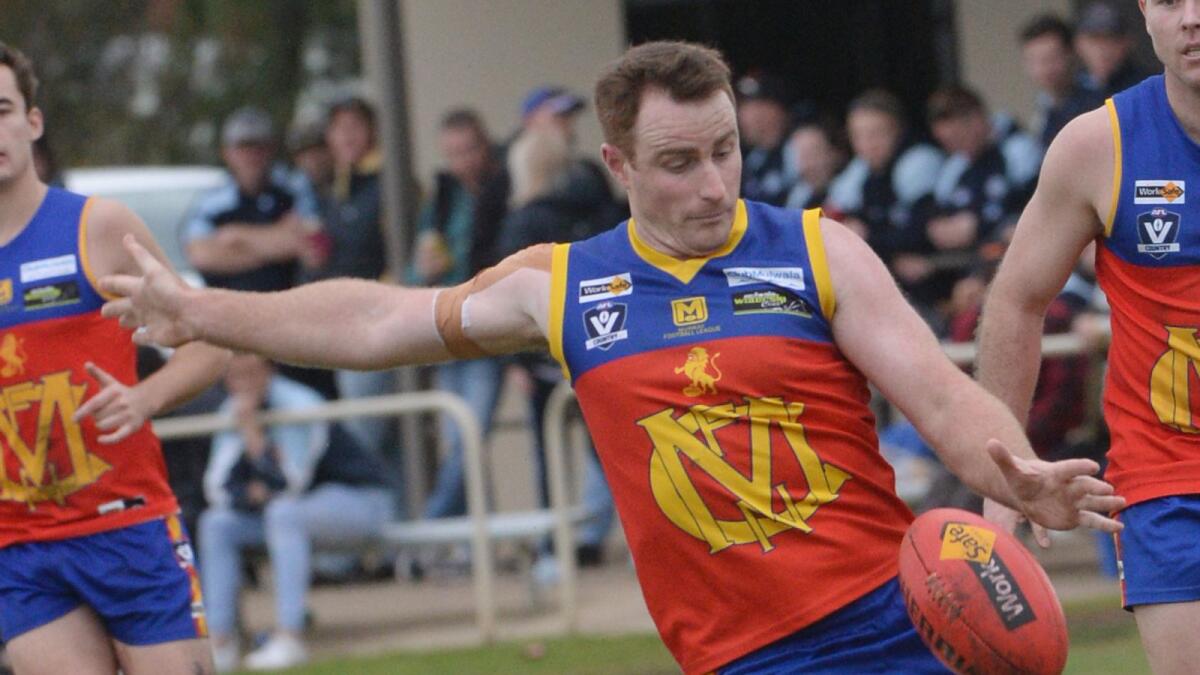 Reserves
Mulwala 4.8.32 defeated by Tongala 14.11.95.
The first half of the reserves game was quite an arm wrestle as Andy Miller, Matt McLachlan and Chris O'Neill were winning plenty of centre square contests and providing forwards Zav McPhee and Beau Nixon some good shots at goal that they were unable to finish off.
Josh Ednie and Cameron Carling were providing good run from the back half of the ground and Isaac Pitches and Lachlan Wood were winning their positions against much larger opponents.
Cameron Magher was racking up possessions all over the ground and when Jack MacDermid kicked a great running goal Mulwala seemed to have gained some ascendancy.
It was short lived however as Tongala's accuracy in front of goal improved and they ran away with the match.
Goals: L. Orr 1, J. Macdermid 1, Z. McPhee 1, C. O'Neill 1.
Best: C. Magher, A. Miller, J. Macdermid, C. O'Neill, M. McLachlan, L. Orr.
Thirds
Mulwala 1.2.8 defeated by Tongala 15.18.108.
With some quality talent out of the team and up against a strong Tongala unit, Mulwala were under pressure early in the game.
Jye Brennan, Brock Johnson and Riley Mitchell were standing firm in the backline and repelling many of the Tongala attacks but the number of entries was making things difficult for them.
When Jeremy Bramich kicked Mulwala's first goal in the second term the boys were gathering momentum and winning many of the tough contests.
The second half saw Tongala assert themselves and although Josh Eder and Levi Saunders both played great games gathering possessions all over the ground it was not enough to keep the team in the match.
Goals: J Bramich 1.
Best: J. Eder, L. Saunders, E. Lay, J. Brennan, J. Norrish, B. Johnson.
Fourths
Mulwala 6.12.48 defeated Tongala 2.5.16.
The Fourths started the game in their usual fashion with a couple of quick goals to Jai Sneddon and some fast ball movement through the middle of the ground by Van Kreeck and Beau Sissons.
Some frustrating decisions were beginning to unsettle the boys and although Tongala were beginning to flex their muscles, the Mulwala boys stuck to the task of winning the football and took a commanding four goal lead into half time.
Nash McNamara was working hard around the ground and Sonny O'Bryan and Kade Sullivan were crumbing the forward entries with sublime timing.
Oliver Watson was too strong through the middle of the ground for Tongala as well as dropping back in defense where he and Maiko Leith were proving too good for their opposition.
Jack Burns and Levi Purtle did some great things late in the game and if not for some inaccurate kicking by Mulwala the scoreboard could have been a lot worse for Tongala.
The whole team maintained great discipline through a very challenging game and remain undefeated heading into the bye.
Goals: J. Sneddon 4, B. Donovan 1, K. Sullivan 1.
Best: O. Watson, J. Sneddon, V. Kreeck, M. Leith, S. O'Bryan, K. Sullivan.