Blighty Football Netball Club players and supporters were in high spirits at the weekend, with a number of reasons to celebrate on Saturday.
Not only did the senior Redeyes claim their first win of the Picola and District Football League season, round 10 of the season also included some special presentations.
Seniors playing coach Kyel Bain played his 300th PDFL game, and was presented with Picola and District Football Netball Club Life Membership by his father and fellow Life Member Gilbert Bain.
League president Colin Senior and operations manager Shane Railton were also present for the special ceremony.
Brett Napier celebrated 200 senior games and received a Blighty Football Club Life Membership, and Leigh Culton and Jarrod Andrews celebrated their 250 senior games with the club.
Coming up against Mathoura, who similar to Blighty have been struggling with numbers and consistency, the Redeyes knew they had to go all in on Saturday.
"The occasion itself was a good reason to find a bit more, but a chance to win Blighty's first game in a while made it even more important," coach Bain said.
The Redeyes got off to a slow start and were down by two goals at quarter time, with Mathoura getting into their rhythm quicker.
However, in the second quarter Blighty came out ready to go and kicked five goals to Mathoura's one.
The third quarter was an arm wrestle, with neither team getting a break. The football being played was good from both sides and was great to watch.
In the last quarter Blighty dug deep and found a little bit more, managing to kick three unanswered goals to get the win.
Aaron Litchfield was brilliant down back for Blighty and never gave an inch.
Luke Hay ran all day out of the backline to be second best.
Bain had a day out to mark the occasion, kicking four goals. Blake Charlton was next with his attack on the footy, which was great to see.
Culton took advantage of the chance play forward and on ball.
Andrew Simpson came into the senior side and, after delivering a great game, is expected to keep.
He marked everything that came his way and kicking four goals.
Mathoura's Nick Ferrari again led the goal-scoring for the Timbercutters, while Tom Creighton, Seth Wright, and Ben Keogh battled through the midfield.
Mathoura coach Stan Gilday praised the efforts of 17 year-old ruck Kyle Magro, and said consistency would develop over time for the young Mathoura outfit.
Final score: Blighty 12.16 (88) def Mathoura 7.10 (52).
Reserves: No game.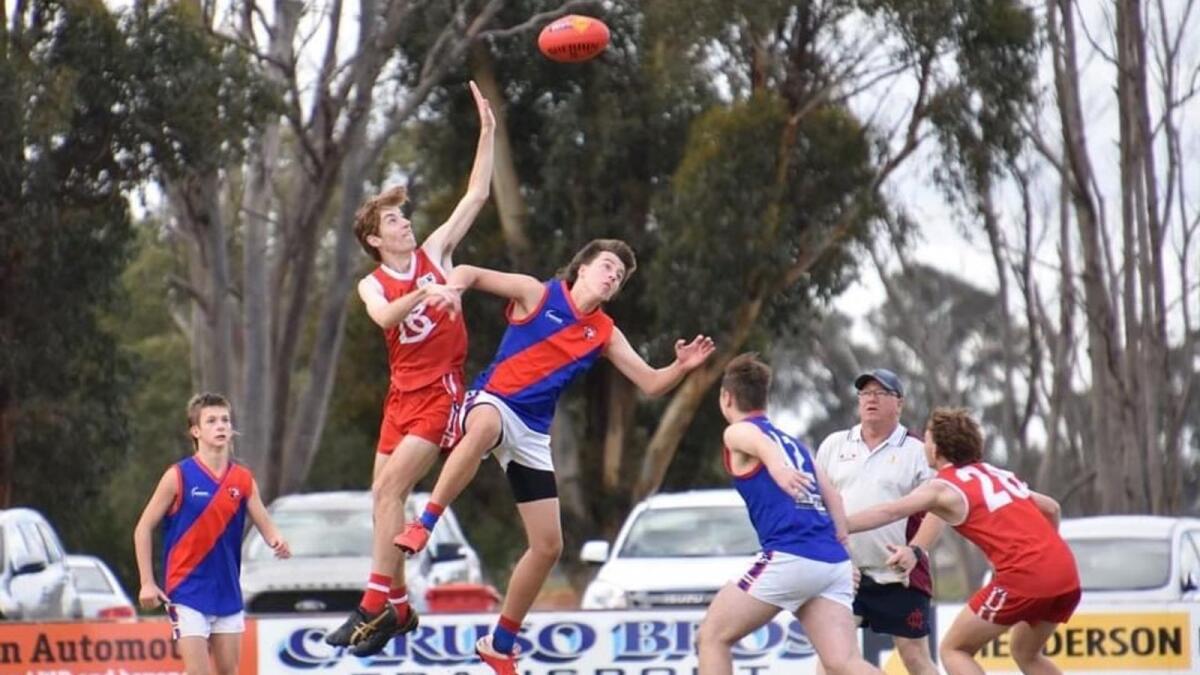 After a really strong week of training, the Blighty thirds had regrouped and were ready to play.
At the first bounce they were all switched on and ready to play strong team footy.
Kobi Baxter hit the scoreboard early with eight goals in the first quarter, which was delivered to him by an improved midfield.
At the start of the second quarter Mathoura came out hard, but the Redeyes responded by picking up the intensity and moving the ball around the ground until the right forward option was on.
In the last half, Blighty finished how they started, running hard with plenty of talk.
Final score: Blighty 16.21 (117) tdef Mathoura (0).
Best on for Blighty was Kobi Baxter kicking 11 goals for the day. Will Dudley and Riley Webb also received awards for an outstanding game.
Henry Michael, Bede Orr and James Bridge were also strong around the ground all day.
Hosting Mathoura at home, the Blighty fourths had a really solid win.
With an undermanned Mathoura side, the Redeyes lent them a few players and to their credit they didn't give up.
"I was really proud of the way the young Redeyes unselfishly played and worked as a team," said Blighty's fourths coach.
"Having nine individual goal kickers made it really hard to choose the best on, but Angus Lawson took it out, getting a bag of five and played a really strong game.
"Cobi Johnson is definitely one of the guys Blighty can count on in the middle playing another brilliant game.
Ollie Culton and Xander Strong showed everyone it doesn't matter how big you are, even the little guys can get plenty of the ball.
Reagan Macdonald played his best game to date and is really growing in confidence and Mitchell Grimwood played a really important role and unselfishly brought a lot of the younger guys into the game."
Final score: Blighty 16.12 (108) def Mathoura (0).