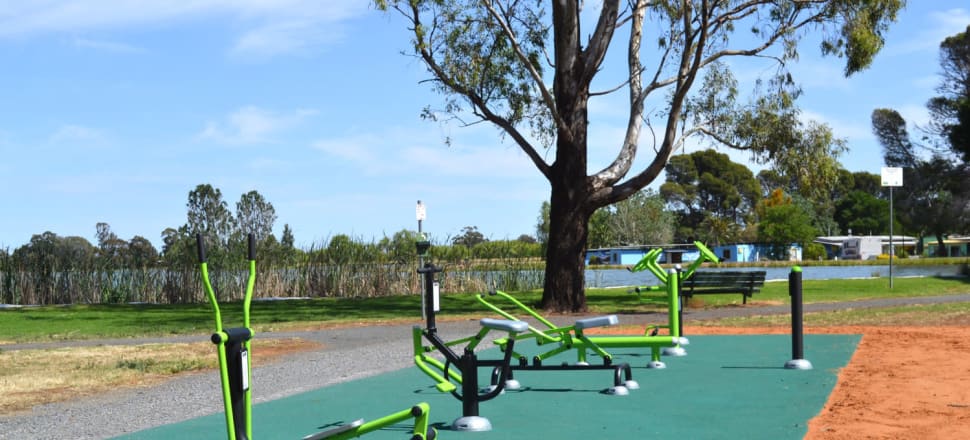 5370537724001
There's a new way to exercise for free in Finley and it can be found at the Finley Lake.
Recently the Finley Rotary Club implemented the first phase of the complimentary exercise equipment that now resides at the Finley Lake along the Newell Hwy.
Former president and current member of the club, Bert Wulz, was excited to open the equipment to the public and foresees it as another way of bringing the community together.
"One of the biggest things I wanted the park to create was a place the community can go to and enjoy together and have their family members challenge each other," he said.
"Families can come together to exercise and have a barbecue together in the outdoor area.
"I want it to be a focal point for the community down there."
He says that although the equipment is installed and operational, there's still more to go in the next phase to complete the project.
"The plans aren't finished yet, the insertion of the equipment was the first step," he said.
"We also want to get a roof up and a small gated area for kids so mum or dad can do some exercise without their little ones going for an unexpected swim."
The inspiration for the park came from Mr Wulz's passion to bring access to exercise equipment for everyone and narrow the margin of the facilities that cities have over rural and country towns.
"I originally got the idea to put in the exercise park to compete with surrounding towns and to add something to Finley that it should already have," he said.
"I moved down here from Sydney five or six years ago and one thing about Sydney is there's almost a complimentary exercise park on every second block.
"The lake is the perfect setting to have one, the Lake track has a beautiful setting and where the exercise equipment is there's also a barbecue and undercover area.
"One of the main advantages of the equipment is that they're wheelchair friendly, for any of our elderly or disabled community members, the equipment is still accessible."
Mr Wulz said that the next phase of the project is getting the council on board to establish a restroom where the equipment and barbecue area is.
"I encourage as many people as possible to join Finley Rotary and get involved in the community," he said.
"One of the next challenges we face is having a toilet put in, unfortunately council aren't going to add a toilet to that spot and it might be something the community needs to rally together to create the interest for one.
"It doesn't need to be something elaborate, just a unisex toilet to function for the needs of those who use the space.
"The area where the toilet would go is crown land owned by the NSW Government so it might be the case of looking into funding to get one but it would also be terrific if the council were able to support it."