KDL | Towners out to get the job done for 'Mr Fix-it' in 300th match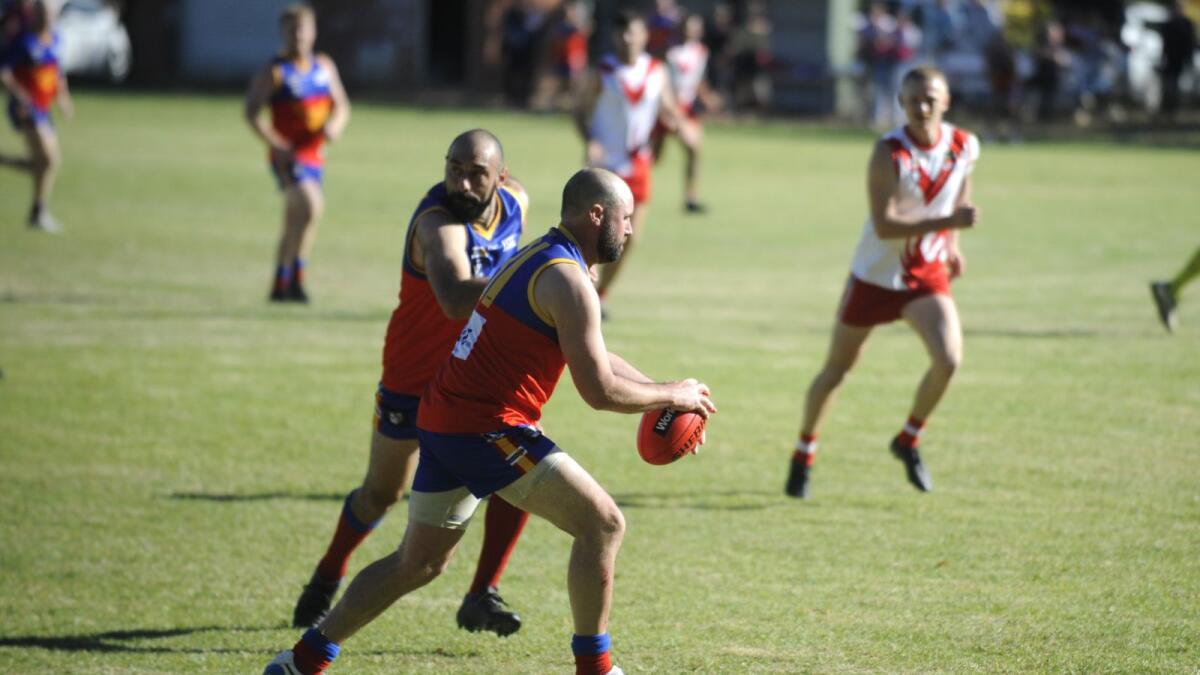 Violet Town will celebrate the career of one of its club favourites this weekend when Tim Ross runs out for his 300th club appearance.
The Towners are at home to Girgarre for round 11 Kyabram District League action.
Ross, a premiership player and former coach at the Towners, has come a long way from when he first fronted up on the wing as a youngster with a skinny frame, according to good friend and Violet Town coach Sean Horsburgh.
"To play 300 games at one club is a milestone that I don't think we will see happen much any more, so it's a great achievement for Rossy," Horsburgh said.
"He has been a great servant at the club. I've played a lot of games with him over the journey and he's a good friend of mine.
"He started out on the wing as a little skinny kid, but he's been so versatile as a footballer. He's been able to play down back, up forward, in the ruck as well, he really has been Mr Fix-it for the club."
Umpires may have hoped that they might have seen the back of Ross by now, according to Horsburgh.
"I reckon the umpires will enjoy it when he does decide to retire, because Tim is always giving them feedback on where they can improve," Horsburgh said with a laugh.
Ross has held a number of roles at Violet Town over the years.
He's been the senior coach, junior footy coach, Auskick coordinator and committee member as well.
Horsburgh highlighted what he believed to be Ross' best attribute.
"I think his best trait as a footballer is that he is a very coach-able player," he said.
"He's played in so many positions and most of the time he probably doesn't want to play there but he's done it regardless because the team has needed it.
"He has a real team-first mentality."
No doubt Ross will be putting his beloved Towners first again on Saturday afternoon when they take on Girgarre.
Both sides boast powerful forward lines, spearheaded by Violet Town's Josh Mellington and the Roos' playing coach Damian Cupido, with the pair first and second in the competition's goal-kicking.
"It's going to be really tight. They will be hungry after they went down to Dookie last weekend," Horsburgh said.
"We're expecting to have a number of boys back in the line-up which will help and the boys will have added incentive for Rossy's 300th."
Around the grounds, plenty of eyes will be watching the scores come through from Murchison Recreation Reserve on Saturday night.
The third-placed hosts come up against Shepparton East in what shapes up to be a cracking top-four encounter.
Both outfits enter the clash tied on 36 points and with one loss to their name.
Expect plenty of spice to the contest with a number of ex-Shepparton East players fronting up for the home side.
Meanwhile, Lancaster and Dookie United butt heads in what will be another crucial match.
The Thunder enters this clash following an important win over Girgarre, while Lancaster schooled Nagambie.
Undera and Rushworth get a chance to add to their 'wins' column when they meet at Undera Recreation Reserve.
Both sides have one win from 10 hit-outs.
The same can be said for Tallygaroopna and Nagambie, with the loser set to wave goodbye to finals.
Lastly, Avenel hits the road to take on Merrigum while Stanhope plays host to Longwood.