Coo-ee: 'General' Tom Thumb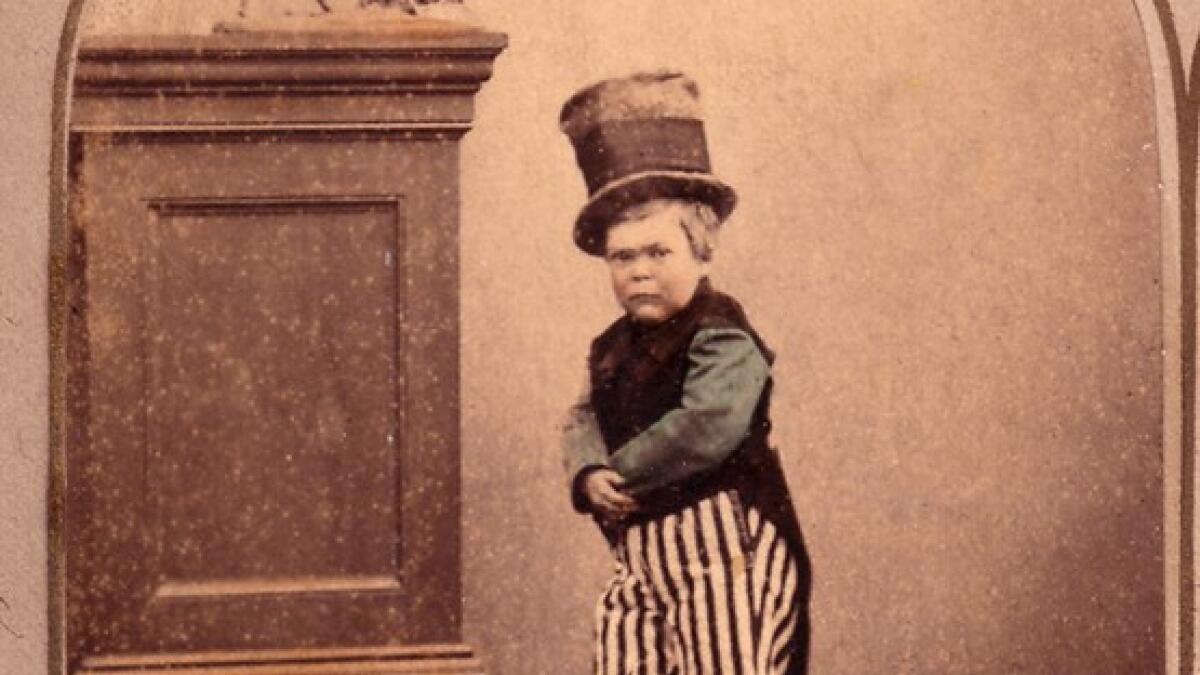 Coo-ee is a regular column highlighting events in Benalla's history.
Charles Sherwood Stratton was probably the first worldwide celebrity.
He was born in Massachusetts in 1842. Promoted assiduously by the US showman P.T. Barnum, Stratton repeatedly travelled the world telling stories, performing in melodramas, dancing, singing, and doing impersonations.
Better known as "General" Tom Thumb, Stratton stood just 86cm tall on his 21st birthday and never grew beyond a metre.
He and all his troop were perfectly proportioned little people.
Stratton twice performed for Queen Victoria.
The first time the Queen's miniature poodle attacked him. Stratton fought it off with his cane.
In 1863, Stratton married Lavinia Warren who stood only 81cm. Some 10,000 guests attended their reception.
Abraham Lincoln received them in the White House where they spent their honeymoon.
Lavinia's even more diminutive sister Minnie and George Washington Nutt, the latter promoted by P.T. Barnum as "Commodore" Nutt, another little man, made up the rest of the bridal party.
In his later world travels through Europe, Asia and Australia, Stratton travelled with an entourage of little people, including his wife, Minnie and Nutt.
They arrived in Australia in mid February 1870 and visited Adelaide and Melbourne before travelling overland in a convoy of coaches to Sydney.
They performed in most towns between the two capitals and had two performances at the Commercial Hotel in Benalla in September before continuing on to Wangaratta and Beechworth.
In the north east that September, there were severe floods.
Outside Baddaginnie, as their coaches crossed a bridge over flooded Baddaginnie Creek, the second coach's king bolt broke.
The king bolt joins the body of the coach to its front axle and to the shafts between which the two rear horses were harnessed.
All four horses bolted past the first coach and disappeared into the bush.
Stratton who was riding on the seat of the first coach beside the driver, scrambled onto the rails of the bridge to avoid the sudden press of the horses from the second coach.
However, the horses threatened to push him off into the floodwaters, so Stratton beat a retreat under the roadway amid the floodwaters.
The worldwide celebrity had a lucky escape from drowning on a bridge over Baddaginnie Creek.
When the horses were recovered and repairs made, the party continued.
After their Benalla performances, the troop continued, but a coach broke down in Glenrowan. A second broke down near Wangaratta.
It could not be fixed, so some of the troop arrived in Wangaratta in a borrowed wagon.
They stayed at Wangaratta's Royal Victoria Hotel where Nutt played Dr Hutchinson in a game of billiards, entertaining a large group of spectators.
After leaving Australia in December 1870, the troop embarked on yet another American tour.
In 1883, while touring, Stratton and his wife were trapped on the sixth floor when Newhall House hotel caught fire.
More than 71 people died. The two entertainers were rescued by their manager.
Six months later, Stratton died of a stroke at 45. More than 20,000 people attended his funeral.
Lavinia remarried another little man in 1885. She died, aged 77, in 1919.
— John Barry, Coo-ee