Cobram Rotary holds changeover event
The Cobram Rotary Club recently held its changeover service and welcomed four incoming presidents, who will serve three months each over the next 12 months.
First up to the plate is John Crawford, followed by James Cornish, Rob Love and Lindon Mellier who will take on the role one after each other.
Mr Crawford, who has been involved with Rotary for the past 17 years, said he was very excited to lead the club for the next three months.
"We've been through the pandemic and nothing much happening for two years ... but everyone's really excited about the club," he said.
"I'm really excited and the club is really going now, we're on a real high at the moment."
Former president Ellie Stephens said it was an honour to have held the role and said being part of Rotary brought its own rewards.
"The club is made up of generous people who give up their time to make a difference in the community," she said.
"Members are warm and welcoming and many friendships are made and I encourage anyone who would like to be part of it to have a chat."
Rotary has also given out its Community Service Awards for people in Cobram who have stood out from the crowd in a number of areas.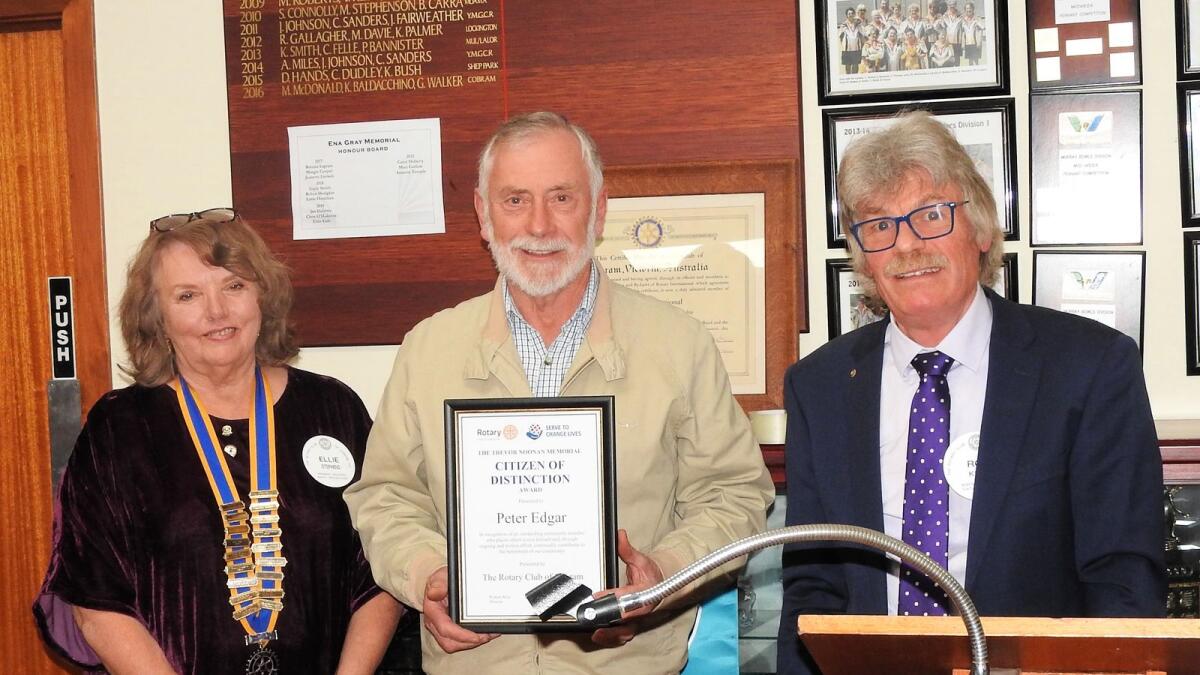 Peter Edgar has been awarded the Trevor Noonan Memorial Citizen of Distinction Award for his community work.
Mr Edgar is an active member of Cobram Barooga Kiwanis Club and a keen member of Cobram Tennis club, where he has held multiple positions in both organisations. He has also provided volunteer auctioneer services for a number of causes over many years.
He has been involved in many organisations over the years and is also described as a respected community member.
The Customer Service Award has been given to Ali Al Mousawy of Ritchies IGA Cobram for his excellent customer service over the past two and a half years.
He has received a large amount of positive feedback and has been said to go out of his way to greet customers and brings a vibrant personality and positivity to each shift.
When not at work, Ali has a keen interest as a boxer where he assists training younger boxers.
Ben Raco of MS Construction was given the RJ Cornish Memorial Apprentice/Trainee of the Year, after starting a school-based carpentry apprenticeship with the company
He continued as a full-time carpentry apprentice and was set to finish his apprentice in May 2023, but is set for an early completion this month.
Ben is described as a role model to others and takes time to assist while problem solving and communicating with clients in a professional and friendly manner.
He also the reserves captain with the Cobram Football Club and is involved with Auskick, where he helps umpire games.