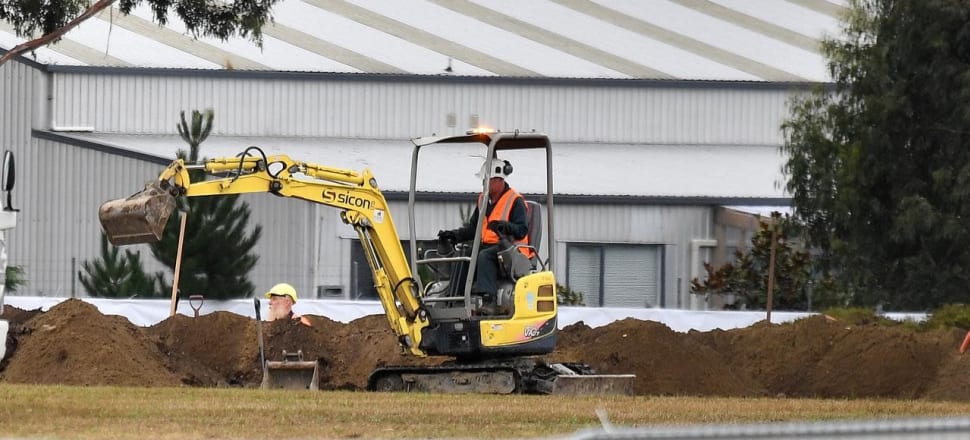 5370537724001
The bodies of some of the victims of the Christchurch mosque attacks will be returned to their families later on Sunday, Prime Minister Jacinda Ardern has announced.
"It is likely, however, to be a small number to begin with," she said on Sunday afternoon.
"It is the expectation that all bodies will be returned to families by Wednesday."
Six disaster recognition experts from Australia are helping in the process.
Christchurch's Muslim community has been urging authorities to quickly release the remains to family for fast burials in adherence with customs of the Islamic faith.
Work by heavy machinery and a large crew to prepare graves was under way near the eastern suburb of Bromley on Sunday, not far from where the second of shootings took place.
Cordons still remain in place around two sites in the after a gunman opened fire during Friday prayers, killing 50 and wounding at least 50 others.
Police Commissioner Mike Bush on Sunday morning said staff were working as quickly as possible to return the bodies and the local community was expected to hold a meeting later in the day.
The city's Muslim community has in recent days gathered at a nearby school minutes from where the first gunfire broke out at Al Noor mosque, killing 42.
Among them was the Linwood mosque's imam, Ibrahim Abdul Halim, who was leading prayers when fire broke out and whose wife has since been discharged from hospital after being shot in the arm.
He called for unity and said the attack would never stop his community from worshipping.
"We still believe this country accepts all religions," he said.
"We are part of the New Zealand community."
His son, Mohammed Abdelhalim, described to Radio NZ losing a number of childhood friends, three with young families, in the attack.
"We were ... family people with no malice, no aggression and nothing but love for this country," he said.
"We just want our loved ones back now. We want to lay them to rest."
More stories of heroism during the attacks have emerged since.
Abdul Aziz, 48, is being applauded after it emerged he managed to scare the shooter away from the Linwood mosque to protect dozens inside, including his four sons.
Police say mosques will remain under heavy guard until further notice, while New Zealand's Jewish synagogues were closed for the sabbath for the first time on Saturday.
The alleged attacker, 28-year Australian Brenton Tarrant, appeared in court on Saturday and entered no plea on a charge or murder.