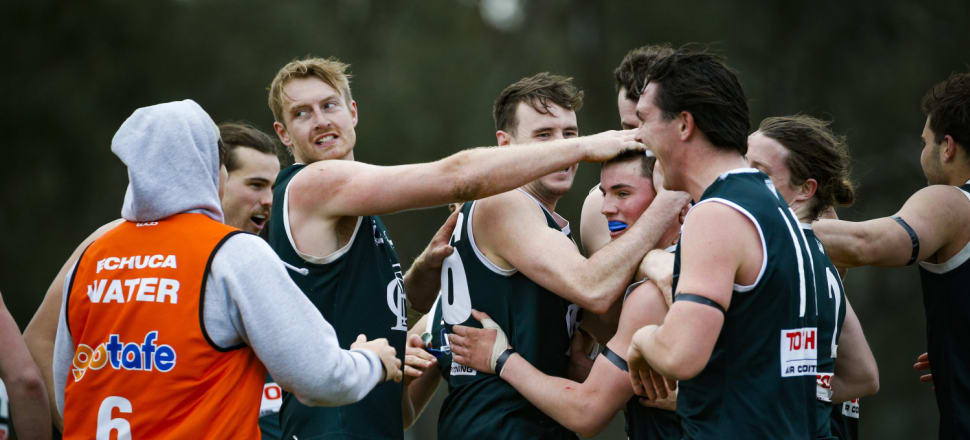 5370537724001
THIS HAS been the season.
The year the mighty bottle greens have returned from the wilderness to be a finals threat in the Goulburn Valley League.
But for all the success of the 2018 season so far, one thing was still eluding the Murray Bombers.
A win against a top opponent.
Two losses to Kyabram, a loss to Shepparton at home, and an early season loss to the highly fancied Benalla Saints meant the Bombers were two weeks out from finals and yet to win a game against any of the sides that sat above them on the GVL ladder.
But that's all over now.
Echuca have claimed a big win against third placed Benalla, running out 21-point winners at Victoria Park.
And the win comes with a message to the competition — we're a threat.
While he wasn't prepared to say it would have a heavy impact on the season, co-coach Simon Maddox admitted it was a nice feeling to get the win under their belt.
''Benalla are a very good side,'' he said.
''So to get to this point in the season, come up against a side who is essentially at full strength and get the win is something we are very happy with.''
And in an added bonus, they did it without two of their likely finals best 22.
''Simon Buckley sat out with a minor corkie,'' he said.
''Simon ran fine during the week and was probably right to play, but with him having had two injuries this year, we weren't willing to risk him hurting himself again at this stage.
''If it was a final yesterday, I think he would have played.''
The side also missed Ben McGlynn, who will also miss next week.
''Ben will be back in the side for finals, but he wasn't going to play this one.
''AFL commitments mean he likely won't play against Mooroopna either.''
But in the absence of these two, it was a growing star of the side that got the job done, with Tim Allan kicking another bag of five.
The Bombers will have one more tune up before finals this week, taking on Mooroopna. But it will be business as usual for the Murray Bombers.
''The goal from the start of the season was to win as many games as we could this season, and finish as high on the ladder as we could,'' Maddox said.
''There is no need to deviate from that now, we had a plan and we will stick to, keep trying to win and keep playing the best football we can.''