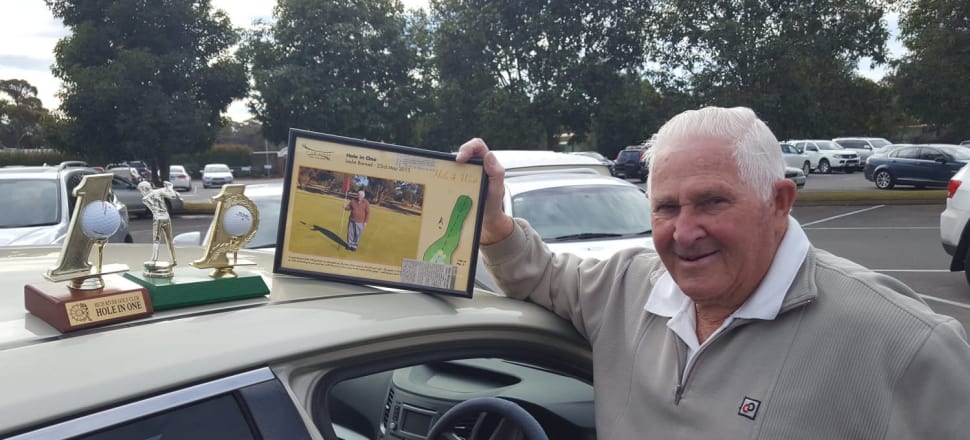 5370537724001
THE ODDS of a non-professional golfer hitting a hole in one are approximately 12,500-1, give or take, depending on which study you read.
But if you've played as long as Rich River Golf Club's Les Barned you would not be surprised to hear he's aced two holes in his career.
The man whose golfing buddies call him the 'elderly statesman' of the course has just turned 90 and is one of the oldest playing members at the club.
Maybe even the oldest, no-one's quite sure.
Les still makes it round the course twice a week with his mates, depending on the weather, in his golf buggy.
In fact he was playing golf at age 25, and has been playing at Rich River since the club was founded.
"I suppose you could say I was one of the original members. I've been in Echuca for 50 years now," Les said.
"My actual birthday was on June 22 but we had the function last Saturday at the Caledonian Hotel because my daughter has twin sons at school in Melbourne and she didn't want to get them out on the Friday and rush back, so we held it on Saturday," he said.
Originally from Albury, Les took up the game in Swan Hill, before moving to Echuca; and has family all over the shop because of it.
Thankfully for him, most of them attended his 90th birthday shindig.
"My family came from all over. My daughter, her husband and two eldest daughters came from Brisbane; my son and his wife and their son, who lives in Wollongong and teaches PE in Western Sydney, came down.
"My son and his wife who live in Albury came; my daughter and her husband and the twin grandsons came up from Melbourne.
"And two of my brothers came up — one with his wife, and my other brother came with his daughter and son, and the son's wife," he said.
Aside from family and friends at the party, one of his original golfing pals in Swan Hill surprised him on the night.
Les said he plans to keep playing until he's told to stop.
"I only play twice a week now, I'm getting too old — and they've made the course too hard for me now,'' he laughed.
"But I'll keep playing until I can't any more.''
Rumour has it he even hit his own age on the course not too long ago — not bad for someone born before the Great Depression, who lived through World War II and has seen Australia's population grow from 6.3 million to almost 25 million.
Not to mention personal income.
In 1928, the year he was born, the average Australian man earned just over $400 a year (and the average Australian woman just under $200) compared with more than $60,000 today.
And golf clubs have gone up in price even faster.