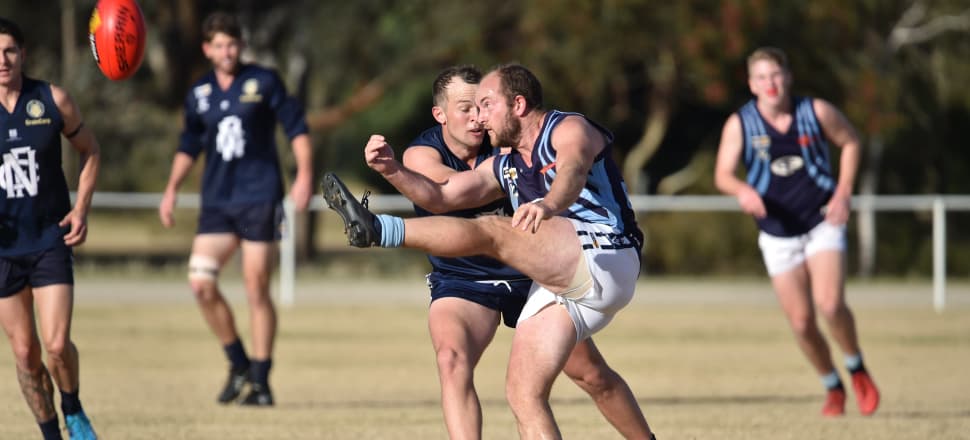 5370537724001
IT CAN be quite difficult to keep a group together as losses keep coming.
And, unfortunately this year, Tongala are taking a lot of losses.
The Blues have been beaten, but not embarrassed on a number of occasions this year.
But that all changed at the weekend; they were belted.
Tonny found themselves on the end of a 73-point thumping from the competition's other Blues, Numurkah.
It's a scoreline that looks like a poor performance from the Blues.
But it isn't how Tongala sees it.
''You obviously don't want to lose a game by 12 goals,'' coach Jordan Souter said.
''But it wasn't as clear as the scoreboard shows. The game played out a bit differently, and we didn't help ourselves out with our play at times.''
Whilst the feeling within the Blues was that the game wasn't as clear cut, Souter wasn't willing to back away from honest assessment of his players.
''We made some serious errors in front of goal,'' he said.
''The kicking wasn't great at stages, and it will be something we have to work on with a few of our guys as we go into this week off.
''Obviously we need to look at getting all of our players better to make us a better side.''
Now the side is trying to produce its best footy in remaining rounds, but also has an eye on next season.
''We've started to look at some areas in the past few weeks,'' Souter said.
''Some of the older guys, myself included, we have started to take a step back, change out of the positions on the ground that we are used to and are giving some of the younger kids a run through those positions.
''If these young guys are going to be the future of the club, we need to start preparing them for what their roles are going to be in the future.
''When these guys are taking the new roles, they are giving it their all. They won't throw the towel in. They continue to play their best footy against good teams and we are really happy about that.''
But as much pain as losing is, Tongala isn't changing who they are.
''We are a really tight group, we've been keeping positive,'' Souter said.
''We've still been able to keep joking around and having fun with each other as the season has gone on, which is important. We are a pretty strong group which is what we want to be.'